MAINTENANCE AND AUXILIARY MACHINERY OPERATION WITH THE USE OF ERS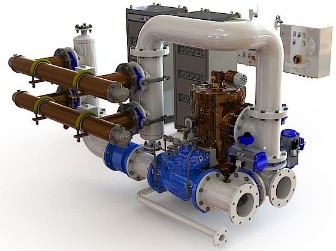 This chapter provides an overview of the main and auxiliary machinery and equipment found on ships. Machinery is often divided into the main or propulsion engines, electrical generation, systems such as electrical, piping, refrigeration and air conditioning, firefighting and protection, deck machinery and cargo handling equipment. The auxiliary machinery may be in support of the main propulsion engines and include heat exchangers and compressed air, or in support of ship and cargo handling such as propellers and shafting, steering gear and deck cranes, or in support of ship services such as ballast water arrangements and sewage systems. An important parameter for a marine diesel engine is the rating figure, usually stated as bHp or kW per cylinder at a given rev/min. When selecting a propulsion engine for a given ship a suitable power allowance for all factors such as weather, fouling, wear and tear, as well as the need to maintain the service speed at around 85% of the maximum continuous rating, should all be taken into consideration.
DESCRIPTION
REQUIRED DOCUMENT
DESCRIPTION
Content Of The Course
-Introduction;
-Practical use of tools, precision measuring instruments such as Vernier caliper, micrometer and dial gauge;
-Overhauling and alignment of centrifugal pumps (single and multistage), gear pump;
-Overhauling of Purifier;
-Overhauling of Air Compressor;
-Routines and overhauling of Aux. engine including Cylinder Liner, Piston assembly, Cylinder head fittings, Bottom end bearing, Fuel pump, Fuel valve and also checking and evaluating various measurements including c/shaft deflections.
Learning Process
The training will be a combination of theoretical lessons and practical exercises
Course Certificate:
A Certificate of Completion is given to each candidate who fulfills the Course.
REQUIRED DOCUMENT